June 11th was our 20th anniversary!  We had decided last year that we wanted to do something more than our usual dropping the kids off at my parents and having a weekend by ourselves.  Since we live in a smaller town and haven't been to a city in years, we decided that's what we wanted to do.  We also wanted to go somewhere we haven't been before and that wasn't too far away, so we decided on going to Salt Lake City Utah.
The kids were just as excited as we were since we were leaving them home alone for a week.  They love having the house to themselves.   We took a whole week off of work, but planned on spending 4 days in Salt Lake, we wanted some time at home before having to start work again.  We took off on Sunday the 8th after church and hit the road.  We saw some real pretty mountain ranges that we don't normally see.  We enjoyed such a nice ride together, listening to music, audio books and just chatting.  This vacation was the most time Paul and I have spent alone together since before we had kids, and it was great!
I had wondered if I really missed city life as much as I think I do, and if I would take to it again easy or not.  All the city driving, people everywhere, tall buildings and constant traffic.  Actually, I did miss it, and I took to driving in it with no problems.  One of the things we miss the most about where we live is that we can't easily walk to too many places.  Most things are driving distance away, and there is really no public transportation where we live.  Don't get me wrong, we do love where we live.  We are surrounded by beautiful mountains, we are near great friends and family and we just love the area to go hiking and shooting.  But we do miss the ease of city living.  Everything close and in walking distance, no need to drive everywhere and the culture.  We miss the various unique places to visit that cities have to offer.  Salt Lake City was perfect in that is was a micro version of what we missed.
When we had set up our hotel, we wanted to make sure we were near the train system (what they call Trax).  It took you most anywhere you wanted to go, but the Trax that ran downtown was free.  One of the stations for the Trax system was only 1 1/2 blocks from our hotel!  We walked to the station every day, hopped on the train and set off to check out different parts of the city.  We went to two huge outdoor malls, the planetarium, ate at a couple of different restaurants, visited different Starbucks and just enjoyed the sites and old buildings of the city.  It was one of the best vacations we've had, and we already have plans on trying to go back every year to visit.
So my next few blog posts are going to be pictures that we took while on vacation, trying to capture the beauty and fun we had while in the city.  I hope you enjoy them.
The first three pictures are from our hotel room on the 10th floor.  It was such a beautiful view.  I loved waking up to it every morning.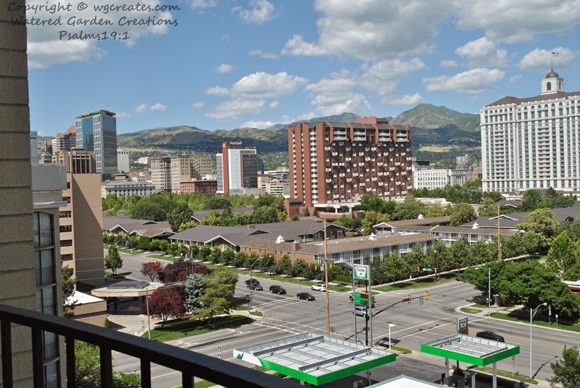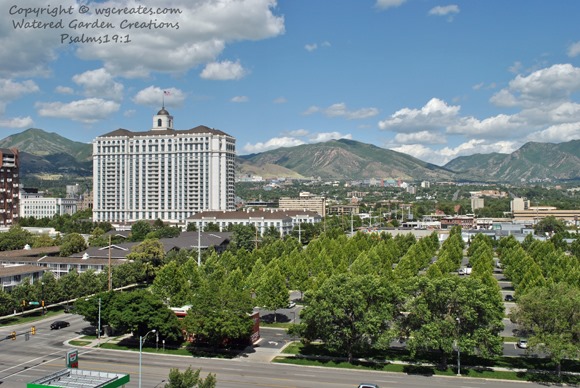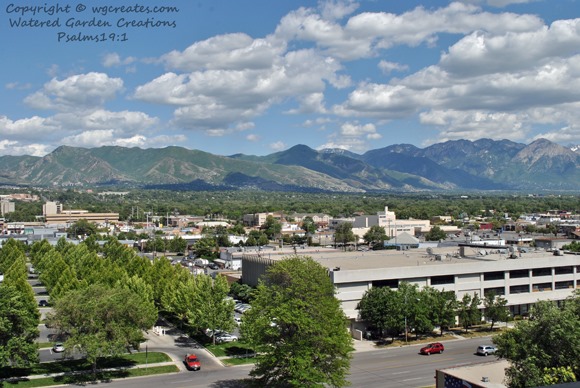 Our first day there.