It's been a good December so far.   We are done with all our Christmas shopping, and most gifts are already wrapped and under the tree.  All the Christmas cards have been sent.  I had fun at a cookie exchange, bringing home some yummy treats.  And Paulie has worked hard and is done with school for the year!  He is quite happy about that.  🙂
I'm going to bake some more cookies this weekend.  Sarah baked cookies last week for the cookie exchange I went to, but those treats are gone already.  So it's time to make some more.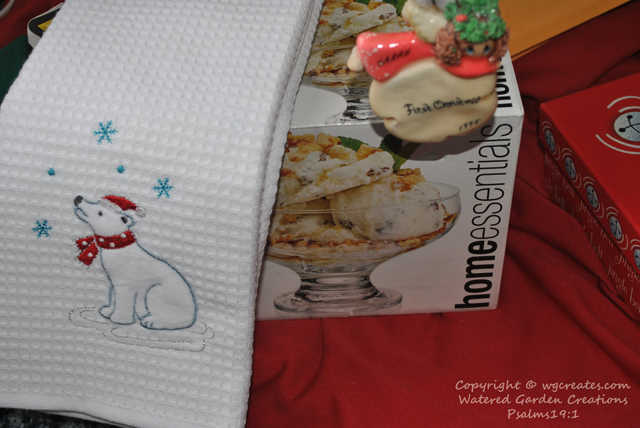 Paul and I went Christmas meal shopping with a gift card he got from his work, which means it was free food.  That is such a blessing.  We have decided to do something different this year for our Christmas meal.  We wanted something nice like roast or ham, but we really wanted a relaxed day and not have to be in the kitchen.  So we've decided to cook and bake everything on Christmas eve and have leftovers for our dinner on Christmas day.  I'm really looking forward to that.  We were thinking of doing something simple like pizza or soups, but I really liked the idea of leftovers instead.  I think it's going to be a nice, relaxing day.
We've had some snow, but it is starting to melt.  Though it looks like we might get some more before Christmas.  We've had fun watching lots of different Christmas movies together this month too.
The rest of the month should be pretty mellow, thankfully.  Getting together with friends, a Christmas party, baking, cooking, some work and of course crafting and reading.  That's what the rest of my December looks like.
So what about you, how has your December been?  Are you enjoying this Christmas season?  Do you have any big plans for the last week before Christmas?  Please share.  🙂