We didn't get to enjoy St. Patty's day on the actual day.  Paul had to work, and when he works we all work.  🙂  That week he didn't have off until Thursday, so that was the day we decided to try our first time at making corned beef.
We don't have a pressure cooker, so we decided we wanted to cook it in our crock pot.  After researching the best way to cook corned beef in a crock pot we realized it would have to cook 10-12 hours.  We planned on eating around 4:00ish in the afternoon, and I had no desire to get up at 4:00am to get the meat in the crock pot.  Since we usually stay up late on our 'Friday' nights, I knew we wouldn't be getting to bed until after midnight.  So we decided we would put the meat in and start the crock pot around midnight and let it cook all night long and have an early lunch.
We didn't put the veggies in right away, I figured veggies cooked for 10-12 hours would be mush.  In the morning, when we got up we put in red potatoes, carrots, onions and cabbage.  Now I don't like cabbage, but Paul and Sarah do and it does give the meat a nice flavor.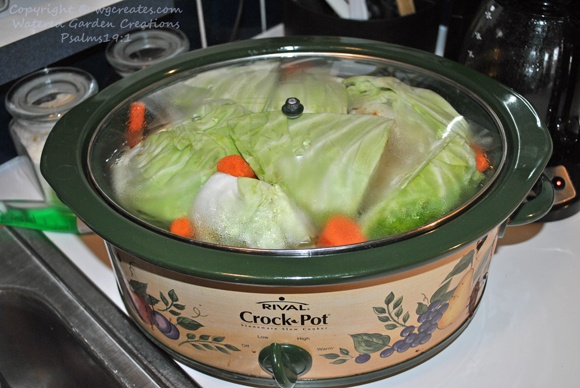 Being the was our first time to ever make corned beef I was a bit nervous that it would not turn out well at all.  But we were pleasantly surprised, and it turned out great!  Unfortunately I forgot to take a picture of the finished product.  But believe me, it didn't last long.  Now we want to try another corned beef soon, even though it's not St. Patty's day.  😉