I can't believe we are only 11 days away from Sarah's graduation!!  She is officially done with school already but her graduation isn't until the 30th.  This week will be different.  Paulie still has lessons this week so it will be my first taste of only having to grade and work with one child.  It definitely makes things go a lot quicker.  😉
We have been enjoying the beautiful weather around here lately.  It's been so nice to be able to sit outside, open windows and smell the fresh cut grass.  We've even been watching some baby robins.  They have made a nest in the tree right out Sarah's window.  She loves to be able to sit and watch the mama.  Of course we could only get pictures of the eggs.  Mama kept flying away.  🙂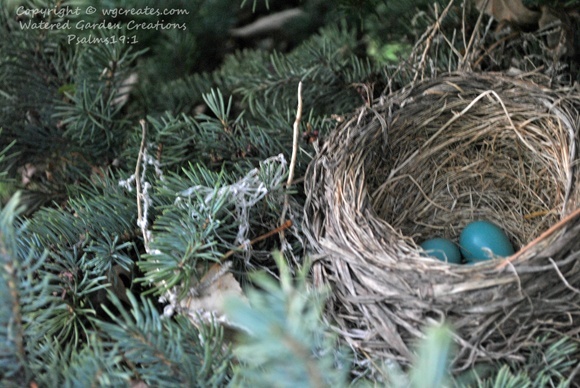 Then about 4 days ago we noticed that 2 had hatched (there are 3 eggs in total).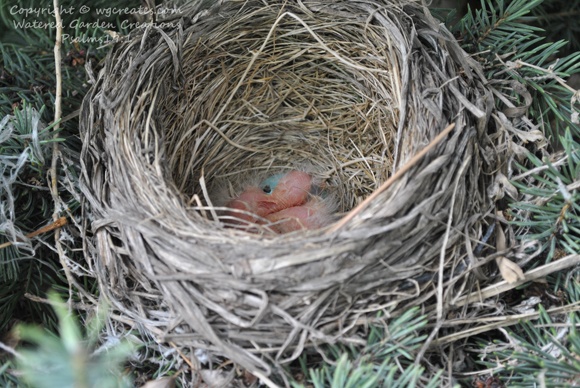 I haven't had a chance to check the nest today yet, but aren't they interesting to look at.  The mama still sits on them too, I guess to keep them warm.  I hope to get some more pictures tomorrow.
We've had some yard work done on the house too.  Our landlord and his crew (he's a landscaper) came and trimmed some trees for us, fixed a part of our fence, fixed a gate, and fixed shingles on our garage roof.  They also need to chop off the top half of this pine tree that the robin made her nest in.  It used to be a small bush, now it's too tall and right by our house.  But we all agreed for them to not chop anything until the nest is empty.
I've been listening to some good audio books while working on my current craft project.  You'll have to go to my creativity blog later this week to see what I'm working on.  😉  I have found a new author I really like, Collen Coble.  I've read/listened to two of her books and I've liked them both.  I'm in her series Mercy Falls, and the first book was great!  I just started the second book.  Another author I found, and actually bought her books is Lynnette Bonner.  I had gotten her first book on Amazon for free (an ebook).  It was so good I had to buy the other 3 in the series.  I hope to be able to read more of hers in the future.
Speaking of books, do any of you use Goodreads?  I do, and I really enjoy that site.  If you want to add me as a friend, just click here and add me.  😀