Yes, I know, terrible title, but honestly, I just couldn't come up with a fun one.  🙂  But that statement is true, it has been hot lately.  Then we got a couple of cooler days, and today was a scorcher again.  But we are in our cooling off pattern now.  Where before we had weeks of mid to high 90's with the occasional 80's thrown in, we are now in the pattern of 80's with and occasional 90 thrown in.  But it's still beautiful weather, and I do enjoy the 80's.  Warm enough to do fun things outside, but not so warm you need the a/c.  🙂
The kids and I did VBS two weeks ago, which was a blast.  I didn't get any photos, I was too busy working it, but it was fun.  I took off last year, and the coordinator asked if I would please do it again this year.  She's one of my closest friends, so it's always a blast working with her.  We had around 310 kids for the morning session and 100 kids for the evening sessions.  I only work the morning sessions.  Plus the big party on Friday night to end it all.  Since I run administration for it, it can get a bit hectic, but this year went relatively smooth.  Sarah was my assistant, so that helped a lot.  Plus, after doing the admin duties for about 5 years, only skipping last year, I'm used to most of what has to be done.
We've also been trying to visit my parents more often, preferably at least once every couple of weeks.  So we did that a few weeks ago and again yesterday.  Since it's a little over an hour drive when we go there we usually try to stay most of the day, which we did yesterday.  It was great seeing them and my sister.  We are hoping to make it out again in a couple of weeks for our birthday week.  My dads is August 19, I'm the 20th and my sister is the 24th.  So we usually try to get together at least one of those days and celebrate all the birthdays.  We are hoping my brother can make it out again this year too, but it might not be until September.  We'll see.
I'm still enjoying my job immensely, though it can keep me pretty busy sometimes.  But the main thing I've been doing this summer is reading.  And not many audio books so I can work on crafts too, just reading.  I do read more during the summers anyway, but this summer has been huge in reading for me.  I've already met my Goodreads goal of reading 42 books this year.    Which, if you are on Goodreads, please add me as a friend.  🙂  But it's been real nice to sit outside in the warm weather with a good book.  Though I've been busy, it's been one of the most relaxing summers I've had.
I am working on some cross stitch, trying to finish the current project I'm on.  I'll get pictures of it on here soon.  Besides reading, the family and I have been watching movies and shows together too.  I really need to take these opportunities to pull out my crafts and work on them, but I just don't think about it sometimes.  I even took my crafts out to my moms house, thinking I could work on them while we visited, but they never even made it out of the Jeep.  🙂  Oh well, I'm sure I'll get the desire to start back up more fully soon.
Well that's about it, though I did want to share one project from work I just finished.  Its a back issues page for all the The OldSchoolhouse Magazine issues.  I still have some quarterly ones to add, but this is such a great resource for any homeschooling family.  So please, share this link as much as you can.  🙂
So what has your summer been like?  Busy and crazy, fun and relaxing or a combination of both?  😀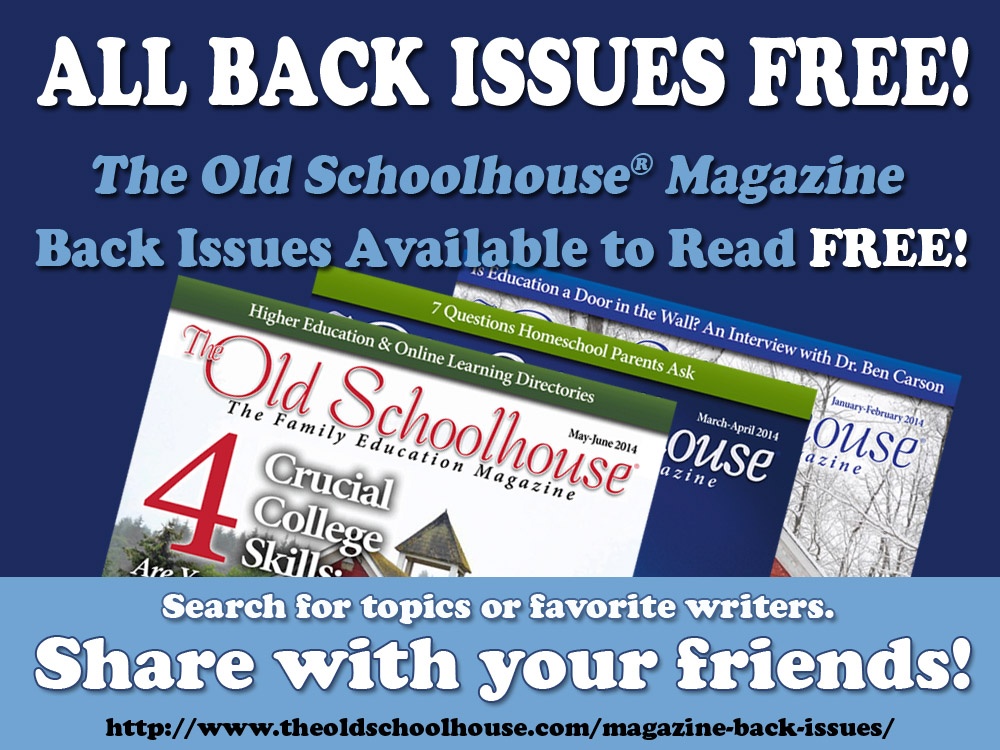 Save
Save