Thanksgiving to me has always been a stressful day.  I'm sure some of it is of my own making, trying to have the 'perfect' holiday.  But some of it is just the stress of having to cook and bake so much in one day.  I try to do a lot of the baking the day before, but still with all it takes to roast a turkey, carve it, make the side dishes, gravy and whatever we want for breakfast, well after years and years it just has gotten to stressful.  Even with the family helping with everything.
Paul and I talked about it last year, with my health issues just starting, I was already worn out.  I started looking for new ways to make it a less stressful day.  During my search I read on Heavenly Homemakers how she cooks her turkey a day or two before Thanksgiving!  I jumped on that idea.  😀  Last year I planned on making it on Wednesday but it defrosted a bit quicker than I planned so I ended up making it on Tuesday.  And it still turned out great.  It was juicy, and tasted just like I made it that day.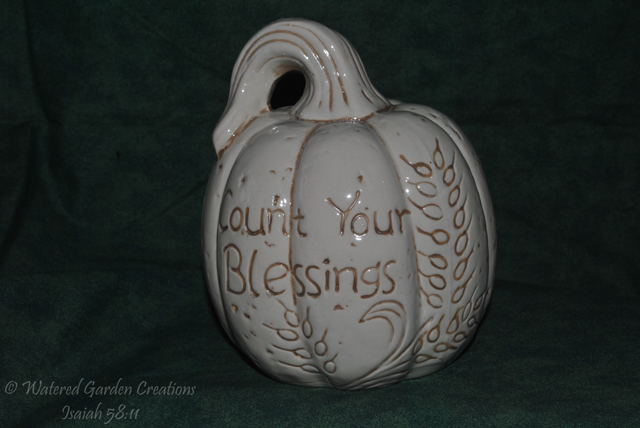 With that working so well I've decided to do it again this year.  I already have the schedule planned out with Sarah helping with some of the baking.  I'm planning again to make the turkey on Wednesday (as long as it doesn't defrost too quickly lol), with some baking on Tuesday and some on Wednesday.  Then on Thursday it will be just a few of the 'easy' items to make, like stuffing, mashed potatoes etc…  I'm also going to make my baked oatmeal breakfast for us with peaches and cream.  I only make it during the holiday, and for us to have a easy breakfast when we all wake up.  It's either oatmeal or an egg casserole.  We decided oatmeal for Thanksgiving and the egg casserole for Christmas.
All of this has truly made Thanksgiving a less stressful day.  I get to enjoy my family in the morning, we watch the parade together, eat what I've made for breakfast and just enjoy ourselves and relax together.  Paul and I joke about in the future just doing pizza together.  Because isn't the most importantly thing about holidays the act of spending time with family and friends?  It's not really about eating a certain kind of food is it?  Or I don't think it should be.  I want to enjoy my time with my family not be stuck in the kitchen.  🙂
How about you?  What do you do to make Thanksgiving, or any holiday, be a less stress holiday?  I would love some more ideas.