I am still in shock, really I am.  Yesterday, June 11, was Paul's and my 17th wedding anniversary.  We didn't go anywhere, but my parents took our kids from Friday afternoon and not going to bring them back until Monday afternoon.  My dad came out took all off us to lunch at a local buffet, we packed up the kids in his car and he took them home with him.  So around 1:00 on Friday Paul's and my anniversary weekend started.  We came home after lunch so I could change the laundry around real quick and he asked me to sit down he had something he wanted to talk to me about.  Right away he said he got me something for our anniversary.  I was shocked, because I didn't think we were getting each other anything.  He proceeds to hand me money and tells me it's for my new Nikon camera!!!!  Yes, I am still in shock.  I almost said no, we couldn't possibly, but he had it all worked out.  I was so excited.
I had already studied the cameras in our prices range for months, so I pretty much knew I wanted the D3000, but with the money he had, and the money I was saving from my Nana, I could have gotten the D3100.  We immediately took off and went shopping.  I wanted to go to Best Buy, just to see both, but that salesman wasn't real helpful.  So we took off to the local camera shop.  This guy was real helpful with us when we went looking before.  So we asked him the difference between the 3000 and 3100, he said the main difference was video.  Video is not something I'm interested in, so saving some money and not having it on the camera didn't bother me.  We talked some more and I knew, I wanted the 3000.  I was beyond excited at this point but my surprise had not ended.  Turns out I could save over $100 if I bought the 55mm-200mm lens that I really wanted.  I thought I would be having to save for that, but like I said, with the money I already had, I could get the other lens too!  I am still so excited and shocked.  Here's my new camera and lens.  Of course, to take the picture of the camera, I had to use my point and shoot.  🙂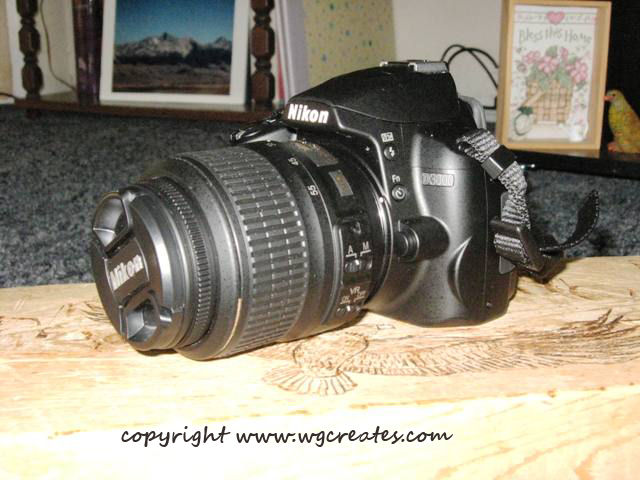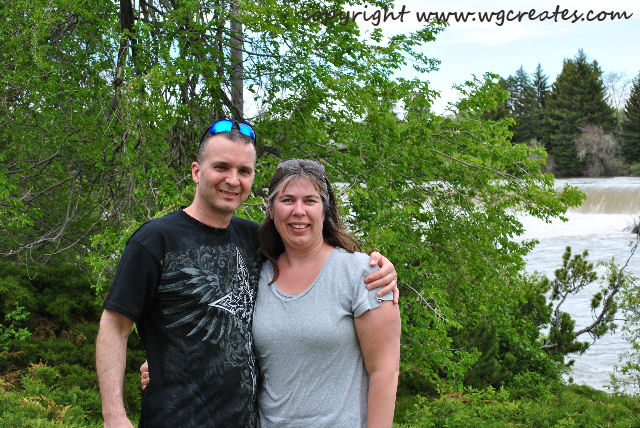 Of course we took off right away and went to the river to take some photos.  A lady that saw us taking photos offered to take a picture of both of us.  I have been pleasantly shocked at the color and detail the new camera takes.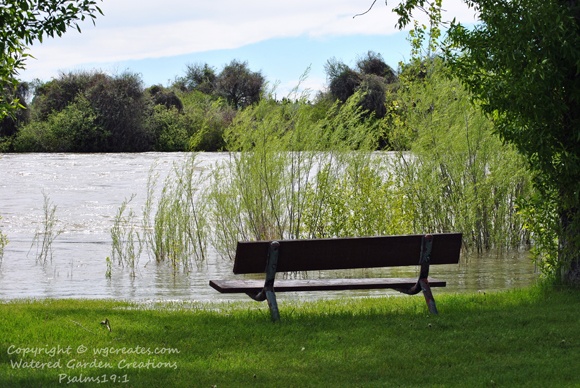 Its funny I wrote my last post, camera shyness, last Monday, though I didn't have it published until Friday morning (before my new camera).  And I had decided I was going to use what I have and be content with it.  But I am so thankful for the new camera, even more so because its a hobby that hubby and I love to do together.  Whenever we go out on photo shoots, even these past couple of days, we keep sharing the camera.  I'll take some pictures, then he'll take some.  We did that with the Canon point & shoot and now with the new camera.  It's just so fun having a hobby like this with my hubby.
I mainly used it in auto mode these past couple of days, so I could get use to it, but I'm getting ready to take it out of auto mode tonight or tomorrow.  I still don't understand why when I re-size pictures some parts look digitized, like my hair in the above photo.  But it happened with my Canon point & shoot too, so I'm guessing it's the software I use, which is Paint Shop Pro V9.  I'm thinking of getting Photoshop Elements, I still have some money left over.  But first I'm waiting because I need to get a good camera bag, but the owner was telling me of a great offer possibly coming up in a couple of weeks at his shop for a camera bag.  So for now, I'm using my old video camera bag.  It can't fit both lenses, but at least it's cushioned, so it works for now.
I do plan on putting up a Mommytography post soon.  But hubby and I are still on our celebrating weekend, so I don't always have lots of time for the computer.  But I just had to share about my camera.  I'm so thankful for it, and I really hope I start to learn how to use it to the fullest soon.