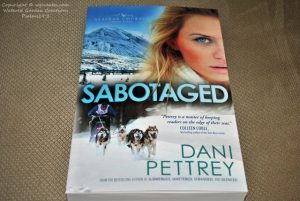 I was given the great opportunity to get an early edition of Sabotaged by Dani Pettrey to read and tell my thoughts on it.  And I am so glad I did.
I've enjoyed this series, Alaskan Courage, by Dani Pettrey from the beginning and was just waiting for this last book to come out.  As usual she starts off the book with a bang, and just keeps it going.  I was on the edge of my seat wondering what would happen next.
This book focuses mainly on Reef McKenna's story as the last of the McKenna siblings.  I think Dani does a great job of not only telling his story, but she also continues on with the other McKenna's stories.  I really feel like I've gotten to know the McKenna's through all of her books in this series, and she brings some great closure to their stories.  You see where their lives have gone and the joys of being such a close family.
I also really enjoy seeing all the siblings and their partners grow spiritually.  This book especially talked about why the Lord allows bad things to happen, and it really touched me how Kirra works through this in her own life.
All in all this book is definitely a great end to the series.  Now I can't wait for her next series to start.  🙂