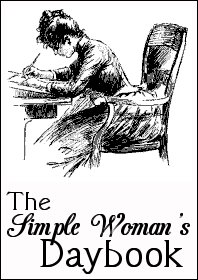 FOR Sunday October 11th

Outside my window…Blue skies but very windy.  We are in a wind advisory right now, and we have all the windows closed so we don't get tons of dust and dirt.  I really don't like that, I like my windows open.  Hopefully tomorrow.

I am thankful…For how blessed I am that I can go meet Paul on his lunch break any day I want.  I'm so blessed to be a stay at home, work at home mom and wife.
In the kitchen…Ham and potato soup, pasta bake, pizza, tamales, apple crisp and meatball soup.

I am wearing…Purple cotton capris and a gray shirt.  Like I always like to call, my lazy clothes.  lol

I am creating…Not much right now, though I did color the other day.  And I did finish a pair of fingerless gloves I had been working on.  Not sure what I want to start though, another crochet project or cross stitch.

I am going…To meet hubby for his lunch/dinner tonight.  Since he usually sits in his truck for his lunch, a break away from co-workers, I'll meet him in the parking lot sometimes and we enjoy lunch/dinner together.  It's a nice break for him and I enjoy being able to do that.

I am wondering…If we are going to get our family photos done this week.  We completely forgot about them this year, and it's Paulie's senior year!  I just asked my friend, who usually takes them for us, if we can squeeze them in this week.  Waiting for her answer.  Might be taking photos late in the season this year.

I am reading…I'm finishing up the Seaport Suspense series by Kathy Herman, reading Not By Chance.  I was also listening to Night Light by Terri Blackstock, but didn't get it finished in time before it was due back to the library.  I couldn't renew it because someone already had it on hold.  So I have to wait a couple of weeks before I can finish it.

I am hoping…That the person listening to Night Light finishes it quickly.  😀  lol

I am looking forward to…A woman's conference I'm going to this weekend.  It should be a fun, blessed time of being with other woman, learning from the Word of God.

I am learning…To start journaling again during my quiet time with the Lord.  I stopped doing it for a while, but it really helps me learn more things from what I'm reading when I journal.  I'm thankful the Lord has really encouraged me to start it up again.

Around the house…Pretty quite.  Football on tv, Paulie is gone to his youth group, Paul is at work, and Sarah just got home from work, but will be leaving soon for her 20something group.  Oh, and potato ham soup is simmering in the kitchen.  Yum!  😀

A few plans for the rest of the week…Hopefully family photos, library, woman's conference and maybe a birthday lunch with a girlfriend of mine (her birthday lol)
A peek into my day…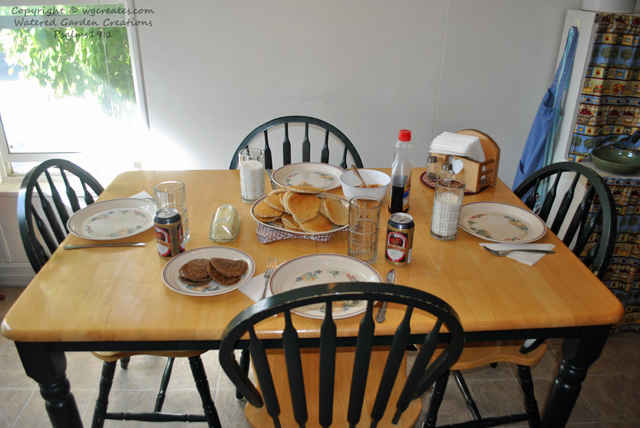 Save