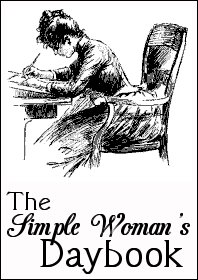 FOR Sunday November 22nd

Outside my window…Dark, but clear and nice.  Earlier today it was sunny and somewhat warm around 40.  It was very nice

I am thinking…About upcoming Thanksgiving day.  We have plans to go to my parents house, but there is a possible snow storm coming in on Wednesday into Thursday which could derail our plans.  🙁

I am thankful…For so many things, a wonderful husband who works hard to provide for us, 2 beautiful children that love the Lord and others, a mom and sister who love to spend time together having fun and just being silly sometimes.  The list could go on and on.
In the kitchen…We have Sarah cooking dinner 4 nights a week, which is such a blessing for me.  It allows me to do other things without stressing about dinner.  Between the 2 of us we've made baked pasta, elk meat chili, meatballs and pasta with white sauce, ham and potato soup and taco night.

I am wearing…Grey cotton pants, black long sleeve shirt, and warm slippers.

I am creating…Some fun things I would love to share pictures of, but since they are all gifts for people who read my blog, it's nothing I can share here.  😉

I am going…To continue to crochet the gifts I'm working on while listening to a really good audio book.

I am reading…Trapped by

Carol Ann Erhardt

and listening to Word of Honor by Terri Blackstock.

I am hoping…The snow storm won't hit until after Thanksgiving or maybe miss us all together.

I am looking forward to…Thanksgiving no matter what happens.  Obviously I want to spend it with my parents.  The plan is we are making the whole meal, and then bringing it out to them, my sister, nephew and his family.  Then my sister is throwing another Thanksgiving meal on Friday, that we won't be able to make, for when my niece comes up.  So I'm not worried about my parents missing a Thanksgiving meal, since they will have two in a row, but I would like to make it out there.  But even if we don't, I'm still looking forward to spending time with Paul and the kids, eating our meal, enjoying the parade and watching Miracle on 34th Street.  🙂

Around the house…Quiet right now, except for clocks ticking.  I'm listening to my audio book, but have it paused right now.  I can't type and listen at the same time.  😀
One of my favorite things…Having my mom and sister come out last week and spending time with them.  We went to the local craft store, had lunch together, did some more shopping and just had fun.  We have a blast when we get to go out together.
A few plans for the rest of the week…Working on the Thanksgiving meal.  I'm chopping up the bread tonight to start drying for the dressing.  Monday not much, but Tuesday we bake everything, and Wednesday I make the turkey.  Paul will get it all cut up and we'll have everything ready to go Thursday morning to go to my parents.  That's the plan anyway.  🙂

A peek into my day…Sarah decided to color her hair.  Dark pink on top and orange on the bottom and she cut her hair shorter.  It looks very cute.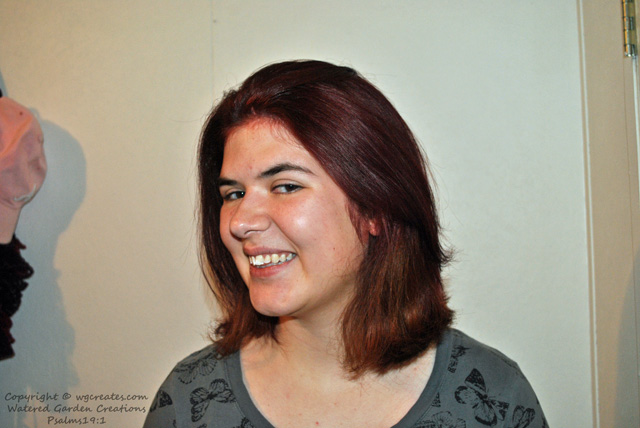 Save
Save