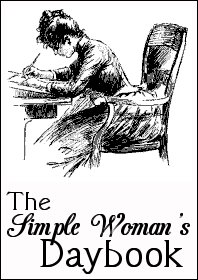 For Sunday March 1st
Outside my window…Again, bright sunshine, but much cooler weather.  We woke up to a temps in the teens.  That's normal for us, but we haven't had that in a long while.  But still no snow.  Now that we are in March, I really don't want snow, but I still think we might get some.
I am thinking…That I ate too much today.  🙁  It's kind of a grazing kind of day, which is never good.  I plan to have a very light dinner, if any at all.
I am thankful…For my husband.  We are in just such a different season of our lives and I'm loving every minute of it.  I remember being told when we first started having kids to make sure I didn't put the kids above my husband.  To remember that after they were gone, it would just be my husband and I again and we didn't want to be strangers after all those years because I was so focused on kids that I didn't know my husband.  I took those words to heart, and I'm so blessed I did.  My husband was my best friend before we married, and he's still my best friend.  And in this season that it's becoming more and more just him and I, I am so blessed that I do still know him, and that we are growing even closer together.  🙂
In the kitchen…Lets see, we've made baked pasta, swedish meatballs, baked mac and cheese, ham and potato soup, a new recipe Sarah tried, banana bread brownies with frosting.  Goodness, that is so very yummy.  We will definitely be making it again.
I am wearing…Blue jeans and a black, long sleeved shirt.
I am creating…I'm working on another spa cloth, this time in black, not pink, and this time I got a photo of it.  🙂
I am wondering…What curriculum we'll be getting this year.  We just finished our tax returns and we always get our curriculum with that.  I just haven't started looking for what exactly we need.  I'll have to do that this week or next.  Plus, this will be the last time we buy curriculum.  Its our sons last year of school, and thus our last year of teaching.  So weird to be ordering books for the last time.
I am reading…I just finished The Restitution by MaryLu Tyndall.  I'm still listening to True Devotion by Dee Henderson.  Plus I have some library books so I think I'll start a new series by MaryLu Tyndall later tonight.
I am hoping…That we get our tax return this week.
I am looking forward to…A three day weekend this coming Friday, Saturday and Sunday with hubby having off all 3 days.  We don't get those too often.
I am pondering…Some of the things the Lord has been showing me lately in my quiet times with Him.
One of my favorite things…Being able to sit back, relax and read after a long day.
A few plans for the rest of the week…Not a whole lot this week.  Library, buying some new living room curtains and maybe going on a date with hubby.  We haven't gone out for coffee in a while.  😀
A peek into my day…I'm only half way done with this spa cloth, but I already know what color I'm doing next, a dark blue.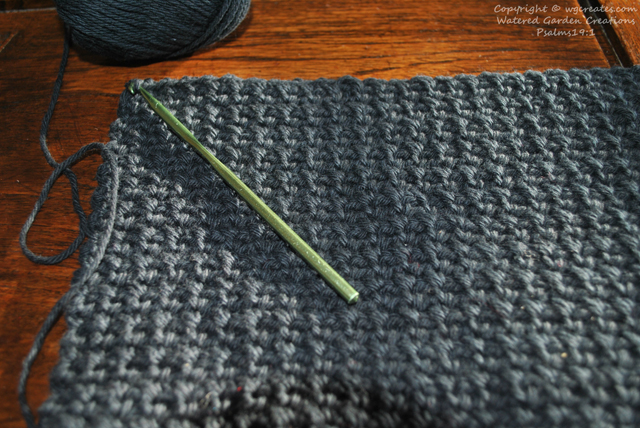 Save