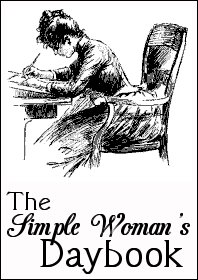 FOR Sunday May 10th

Outside my window…Blue skies, slight wind and a bit chilly, just around 60 degrees.  Not too bad, but feels chilly when we were in the low 70's last week.  🙂

I am thinking…About what I want to pack for this coming weekend's craft getaway.
I am thankful…For the ability to go to the craft weekend.  Paul and the kids are always so great at letting me go and taking care of things when I'm away.  And my mom always blesses me with the trip itself.  It's all such fun.

In the kitchen…Pasta sauce is simmering on the stove, we'll make pasta bake, plus we've grilled steaks and burgers.

I am wearing…Black pants and socks and a white shirt with black and blue strips.

I am creating…I've started a new crochet project.  I only have a few rows of it done, so no photos yet, but I'm hoping to make a small basket for my electronic cables.  If it goes together properly.

I am reading…I'm starting Now Where to Turn by Lynette Eason, and still listening to True Valor by Dee Henderson.  Plus I think I'm going to start the book The Chase by DiAnn Mills.

I am looking forward to…The craft weekend with my mom and sister.  It's at a hotel about an hour away.  My mom, sister and I get connecting rooms, and go a day early just to enjoy some time away.  We have fun working on crafts and hanging out together.  Plus this time my friend is going to be able to join us too.  It should be a great time.
Around the house…I'm watching a documentary on the crash of the Hindenburg, Paulie is in his room and I have pasta sauce simmering on the stove.
One of my favorite things…Spending time with my family last Thursday for Mother's day.  It was such a blessed day.  Paul and the kids grilled steaks and burgers, Sarah made a chocolate cake, and they gave me all the seasons of Longmire on DVD.  Plus we rented a couple of movies from Red Box.  It was a great day.

A few plans for the rest of the week…Clean the house, get some errands done and then start packing and getting ready for the weekend away.
A peek into my day…We have received the last curriculum we will ever order.  This is for Paulie's last year of school next year.  It was such a bittersweet day.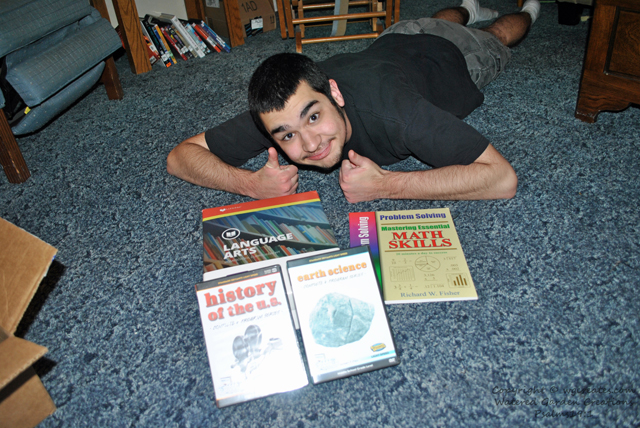 Save