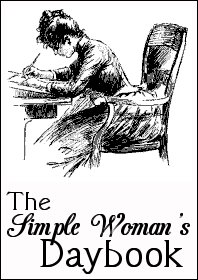 My friend Karen does this writing prompt all the time, and I really enjoy it. So I decided to start doing it myself. 🙂
FOR TODAY
Outside my window…Wind, wind and more wind. I'm getting a little tired of all the wind.
I am thinking…Of so many things right now my head seems to spin sometimes. 🙂
I am thankful…For my husband who works hard everyday to provide for his family and understands when I'm not consistent in the kitchen (see next point lol).
In the kitchen…I made ribs this week and we had a taco night, other than that I haven't been to consistent in the kitchen.
I am wearing…Purple workout shorts and a white shirt. And no, I'm not working out today, just being lazy and comfortable.
I am creating…Not as much as I would like. I've been reading a lot, but the books I'm reading aren't on audio, so no reading and crafting right now. 🙁
I am going…No place today. This coming week normal things, church, library, eye doctor.
I am wondering…About so many things right now, but one I will share. I'm wondering if now is the time the Lord has for us to buy our first house! 😀 We have always rented, and we tried buying a house about 4 years ago, and that fell through. We've been praying and talking recently and decided to see what we could get pre-approved for. We did that yesterday, and were pleasantly surprised by the amount. Still not sure if we'll find anything we like in the areas we want for that amount, but it's a step. We have a dear friend, who is our realtor, starting to look for us. I guess we'll see if this is the direction the Lord has for us. I'm excited and nervous all at the same time. We were so disappointed last time, I just don't want to go through that again. But it's all in the Lord's hands.
I am reading…Winner Take All by T. Davis Bunn.
I am hoping…That there are houses in our price range that will work for us. And that we get to start looking soon. I always like looking at houses.
I am looking forward to…Possibly setting up a new house. I hate packing, but I love setting up new homes.
I am learning…To be patient and wanting what the Lord wants for us. It's nothing I'm perfect with, but it's what I'm learning.
Around the house…Not much at the moment. Normal summer days, lazy and fun.
I am pondering…Many things, but I guess most of my ponderings are on possible houses for us.
One of my favorite things…One of my favorite things this week was celebrating Father's Day last Tuesday for hubby, on his day off. It was a great day, and we all had such a good time.
A few plans for the rest of the week…The biggest thing is cleaning out our garage. It's a whole day, all four of us affair. We never got it cleaned up last year, so there is a lot to do this year. I also think it would be great if looking at some houses became part of our week.
A peek into my day…I'll be making our family meal for lunch today, Paul has a late shift. I'll also work today, maybe play on my website here, and of course read. 😉
No new pictures, so I'll share one from our anniversary:

Save