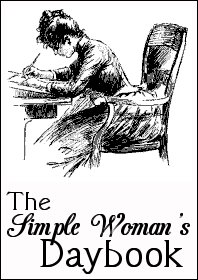 FOR TODAY
Outside my window…Cloudy but a bit cooler, thank goodness.

I am thankful…That Paul has 4th of July off!!

In the kitchen…We are getting ready for our first holiday celebration strictly gluten free, and I am very happy with the menu. We are having hamburgers, hot dogs, potato salad, deviled eggs, fruit salad with whipped cream, ice cream and chocolate chip cookie bars.

I am wearing…Black shorts and a purple top.

I am creating…Not as much as I would like. But I do plan on creating some photos tomorrow. Hopefully it will be of fireworks.

I am going…To see the fireworks tomorrow then the library on Friday.

I am wondering…Why I'm writing this blog post when I should be making the potato salad for tomorrow. 😉
I am reading…Rare Earth by T. Davis Bunn. But I might be changing that soon. I need an audio book to listen to. 😀
I am hoping…That tomorrow isn't too hot. I want to enjoy our fourth outside.
I am looking forward to…Spending a great day tomorrow grilling and having fun with our dear friends then going and watching the fireworks together.
I am pondering…Whether I should by this pedometer I've had my eye on. I think I probably will.
One of my favorite things…Taking walks in the morning with my hubby.
A few plans for the rest of the week…Like I said, spending the fourth with friends.
A peek into my day…You can see what I've been doing today, playing with my website. I really like this simple layout, but no, those pictures are not mine. But I do like them. lol
Such a sweet photo of the kids with my mom.

Save