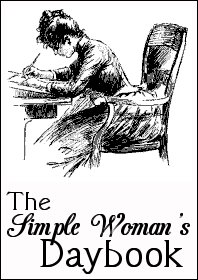 FOR TODAY
Outside my window…It's getting dark, since I'm typing this at night.

I am thinking…How much I like having Paul home early.

I am thankful…That Paul's shift is changing.  He used to work only 2nd shift hours, getting home between 9pm and as late as 11pm in the summer.  His boss is now working on getting him out by 8pm and sometimes 6 or 7.  And believe me that is a HUGE difference.

In the kitchen…I've been in the kitchen a lot, and that is such a change from how I've felt lately.  But honestly, with Paul's schedule changing, it's helped me get my schedule back to 'normal'.  It's easier to get things done during the day when he's on an earlier schedule.  I love the fact that I'm creating yummy meals and snacks for my family, along with getting my work done and taking care of the house.  I hope he stays with this new schedule.

I am wearing…Capri jeans and a red and white top.

I am creating…A birthday gift for my dad who celebrates his 90th birthday next month.  The present is coming along nicely.  🙂

I am going…No where major this week, just the normal, library, church, stores for grocery shopping.

I am wondering…Where the summer has gone.  I can't believe it will be August in just 2 days.

I am reading…Soon by Jerry Jenkins (audio book).

I am hoping…That Paul's schedule continues to be early shifts.

I am looking forward to…Having Paul home early in the evenings and spending time with him.

I am learning…To be thankful for the things that I have, even when I don't think it's enough (though of course it always is).

Around the house…We are having a great summer.  Lots of cooking and baking going on, spending time with friends, and enjoying being together.

I am pondering…Whether or not we will be able to buy a house someday.

One of my favorite things…Going to see my parents last Friday.  It was a great day with them, and lots of fun.  It's always good to go out to see them.

A few plans for the rest of the week…Work, library, more time in the kitchen and to continue to work on my dads gift.

A peek into my day…Went for my morning walk, working toward making sure I take 10,000 steps a day.  Hubby went with me, which makes it much more fun.  😉  Then the kids and I went grocery shopping.  After we got home I did lots of cooking: black bean dip, sun tea, hard boiled some eggs, double batch of pasta sauce, and baked pasta for dinner.  Did some work and now enjoying time with hubby, watching a WWII documentary together and me working on this post.

I love this picture I took of my dad with the kids last week.  It's the best one of them all.

Save