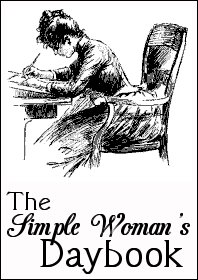 FOR Sunday September 27th

Outside my window…Partly cloudy skies and nice cool weather.  We jumped up to the high 80's and low 90's the past few days.  But I really enjoy the mid 70's like today.  It's nice and comfortable.  🙂

I am thinking…Too many things sometimes.  I have a lot of things flying through my mind.

I am thankful…To have a Sunday home with my hubby.  He's off today and tomorrow and I'm blessed by that.  We don't have too many Sunday's together.

In the kitchen…Fish, french fries, turkey casserole, pasta alfredo, chocolate chip banana bread, smoothies and salads.

I am wearing…Long, grey cotton pants, and a light blue sleeveless shirt.

I am creating…I have seriously lost my creative gene.  The thoughts of doing crafts sound so fun, but I just never pick anything up to work on it.  I miss working on them, but I truly don't have the desire right now.  Maybe I just need a break for a bit, and the desire will come back.

I am going…To 2 new bible studies.  One is a couples one I get to go to with hubby when he is available and the other is a woman's one.  It's truly a blessing to be able to go to them and I'm really looking forward to them.
I am hoping…To go outside this evening and enjoy the firepit with the family.  The past few times we've wanted to have it, it's been too windy, or we were in a fire restriction because of the dryness.  We haven't had as many this summer as we would like, but tonight, so far, seems like it will be perfect.  As long as the wind doesn't kick up.
I am looking forward to…Monday and the date Paul and will be going on.  I won a $50 gift certificate to a local restaurant through my library's summer reading program.  I've been working to get it for a lot of years, and so blessed I finally won this year.  It should be a fun day down town, enjoying good food and a good time with hubby.

I am learning…How important it is to spend time in the Word of God.  I tend to let things slide in that area, but the Lord is really encouraging me in this area.
Around the house…Football on the tv, Sarah and Paul talking about work that needs to be done on her car, and Paulie gone to his youth group.  Plus we are getting ready to start dinner, fish and fries.
A few plans for the rest of the week…Lunch with hubby, library, and the 2 new bible studies I started last week.

A peek into my day…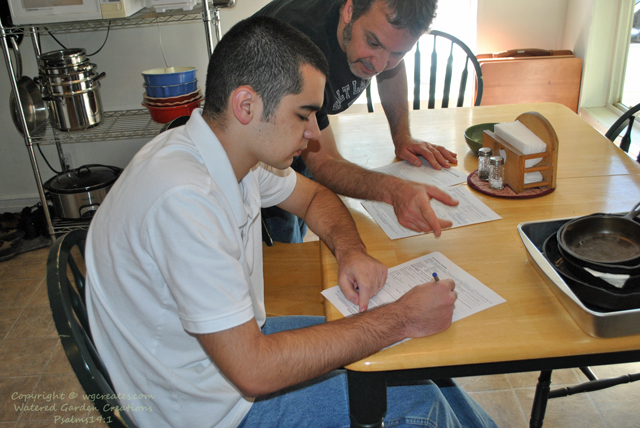 Save