I know not all of the Lord's blessings are something tangible.  Some are His blessings of peace and comfort and so much more.  And I am so thankful for those kinds of blessings.  But some of His blessings are tangible, like being blessed financially, or with a house you have been praying for.  Well the Lord blessed me with a new position at my job.  I am quite excited about it.  I work for The Old Schoolhouse Magazine (TOS) and I have enjoyed the work I do so much.  I've been doing little things for the company, helping here and there as needed.
I liked what I was doing, but always felt like I wanted to do more.  Then a week ago I was asked by my boss if I wanted to be their HwH Blog manager!  I was so shocked, it was totally unexpected.  I wanted to jump at it right away, and I was so thankful that when the offer came through Paul was home so I could talk to him right away.  We both agreed that it was a good offer, but we also agreed to pray about it first.  Which I did and felt it was ok to accept the new position.  So now I am the blog manager and I also help with some website things too.
I've been working the new position for a week, and enjoy what I am doing.  It's a challenging position at times, but I work with some wonderful people who help me out a lot.  Thankfully I don't have to write for the blog.  🙂  I have a hard enough time coming up with things to write here.  lol
I think back to all those years I tried to force, create, and 'make' a work at home job for myself.  But I knew it wasn't the Lord's timing back then.  When I finally stepped back and said 'forget it', the Lord brought the job He had for me.  And now He continues to bless me there.  But I still try and remember what He showed me a couple of weeks ago, before the new position.  I need to be careful of my work time and not let it overtake my family time.  It's funny, now with these new responsibilities I have, I can see that when He told me that it was for now more than anything.  You know my tendency to want to overwork, especially at something new.  🙂
But I have been doing other things, beside work.  The kids started school and it's been going well.  We had to tweak our schedules a bit, but that's been about it.  And now our days are flowing pretty well.  The funniest thing is that I kept forgetting to take a picture of their first day at school.  So we went with something different this year, a picture showing their first 'week' of school.  🙂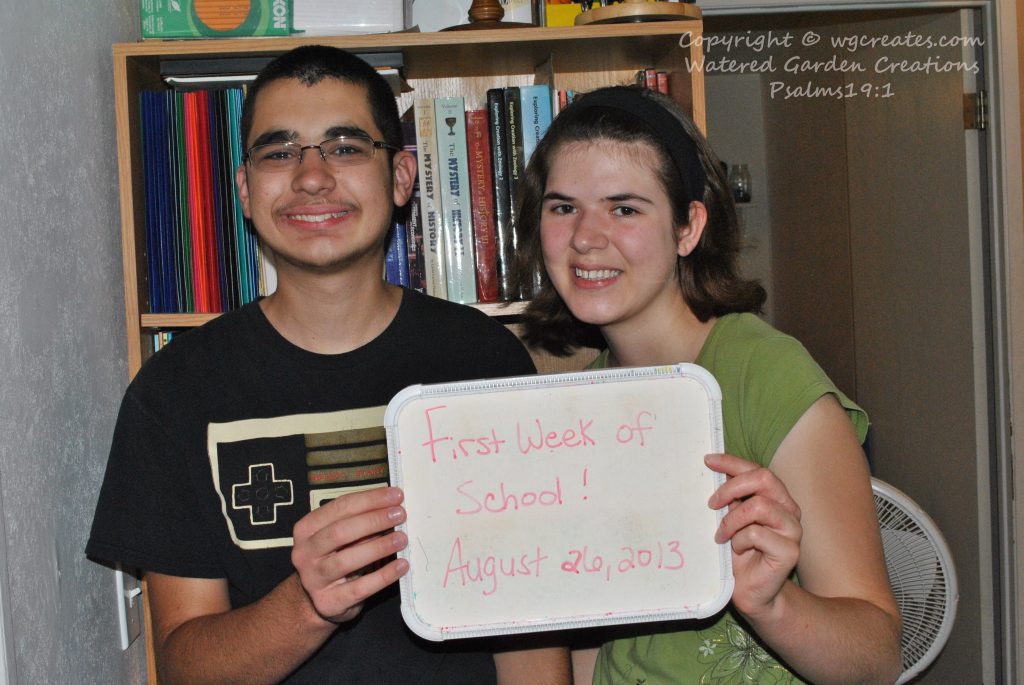 How did your first week or weeks of school go?  Was there some conflict?  Schedules that needed to be tweaked?  Or was everything perfect for you?  I would love to hear.