Disclosure: This post may contain affiliate links, which means I may receive a commission if you click a link and purchase something. This adds no cost to you. Please check out our disclosure policy for more details.
We met for our monthly craft time last Saturday, and as usual, it was a great time.  We got to talking about the different crafts we enjoy doing and we all agreed that what we like to do the most changes sometimes.  The main crafts I really enjoy are cross stitching, crocheting, paper crafts and photography.  I had been doing a lot of crocheting, but then a friend and I started to talk more about cross stitching and I realized I hadn't cross stitched in a while.  So now my crochet is set aside, and I've been cross stitching.
This is my current project, though you can't see it real clear.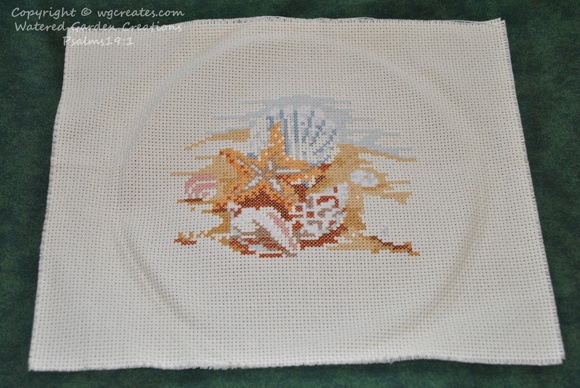 I prefer doing smaller projects, which this one is.  It's some seashells.  I usually always buy kits that have the aida cloth, floss, needle and pattern all in one.  But my friend has always picked her own patterns from books and such, buying everything separate.  I think I might try that.  I was blessed on Mother's day with a gift card to our local craft store, I think I'll be trying something new.  It's funny, whenever I get gift cards to the craft store, you can tell what craft I'm currently in to, because I usually buy supplies for that craft!  😀
So what about you?  Is there one craft you always do and nothing else?  Or do you prefer to change things up once and a while and do something different?  🙂