Neither Paul nor I are gardeners or landscapers, though we both have a desire to be.  Paul truly does have great ideas for our yard, and I always dream of having plants and a garden.  Well I haven't started on the garden yet, but I am working on getting plants in the house.  You can see what I've done so far on this post.  But honestly, I don't have a green thumb at all.  I've killed just about every flower and plant I've ever tried to have.  The plants we just got recently I'm hoping will survive, since they are supposed to be pretty easy to take care of.  We'll see.
But Paul and I have also been working on our yard a lot.  We rent, and our landlord owns his own landscaping business.  This house used to be his, so when he first got it, he planted tons of plants and trees around the yard.  Now 10 years later (though we've only been here 7 years) all those plants and trees have grown so huge.
I have put a lot of photos of our yard on my site, but there is one area that has always been way to over grown.  And it's this corner area.  I forgot to take a before picture, but I finally found one from 2012 I took at a party we had.  Funny, I always felt like I took to many photos of my backyard, but not enough of this corner.  🙂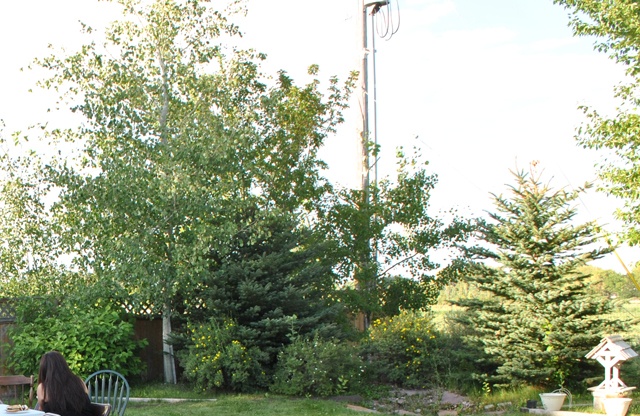 See how crowded it all is, and this picture was from 3 years ago, it was so much worse this year.  Those pine trees were the biggest issue.  They were just so huge and had so many branches on them, the bushes by them couldn't really grow properly.
Finally last week we started the landscaping project and the first thing we did was cut off all the lower branches of the pines.  Plus we've trimmed up the bushes a bit.  There is still so much we need to go.  More weeding and trimming, raking and things like that.  But I think it looks 100% better already.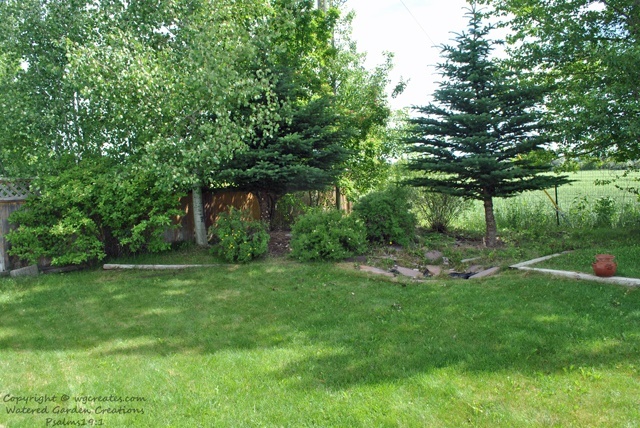 We are so exited at how well it's coming along.  Though landscaping isn't my most favorite thing, I really did have fun with this project.  I love working with hubby on things.  And who knows, maybe one year, I'll actually start a garden.  😀
What about you?  Do you like to garden, landscape and/or have indoor plants?  Do you consider yourself as  having a green thumb?  Or do you just like looking at it as long as you don't have to do anything with it?  I would love to hear your thoughts.
Save