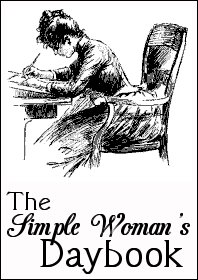 FOR TODAY
Outside my window…Right now it's a bit overcast, which makes me want to go for a walk since there is no hot sun.

I am thinking…That I really want to start writing more here on my site, but I'm having serious writers block.  🙁

I am thankful…That Paulie is making the changeover to eating gluten free so well.  We are trying him on it for 3-6 months to see if it helps some issues we've seen in him.

In the kitchen…I really want to bake more GF snacks, but it's just too warm out to do much in the kitchen.  I honestly don't know how the pioneers did it every day, all day, in those long dresses and in this heat.  😉

I am wearing…Blue workout shorts and a grey t-shirt.  It's a lazy kind of day.

I am creating…I'm crocheting a bit more and I'm coloring a bit.  I know it sounds funny, but I love color by number sets, not the kids version but adult version like this one.  It's so relaxing for me.

I am going…To go for a walk this evening.

I am wondering…What I want to do with the rest of my evening.  It can be hard when hubby doesn't get home until 10:15pm.

I am reading…Against All Odds by Irene Hannon (audio book).

I am hoping…That someday Paul will start working earlier shifts.

I am looking forward to…Seeing how my kids do with helping at VBS next week without me there too.  We've all helped for over 4 years, but I knew that last year would be the last one I was to help with.  But the kids are still helping.  I'm proud of them to keep going even when I'm not.  🙂

I am learning…More and more about eating gluten free.

Around the house…Not much tonight.  Like I said, it can be lonely when hubby works till 10.

I am pondering…

One of my favorite things…Seeing Sarah at fencing camp.  She is really good at it, and she's pretty sure she'll join fencing this fall.  I'm so proud of her and love that she found this all on her own.  If you want to read about it and see some pictures, you can see them on my creativity blog.

A few plans for the rest of the week…This is really plans for next week.  We are hoping to go play some disc golf if it doesn't get too hot.  We are going to buy our first set of discs this week.  We like playing, just never owned our own discs.  Other than that, kids are helping at VBS which gives hubby and I 5 mornings this week to ourselves.  Ok, that is one good thing about him working later shifts.  😉

A peek into my day…Spent time with hubby this morning.  Got some work done on a new project I'm involved in with work (that always feels good).  Watched a movie with Sarah and now I'm thinking of going for a walk.

Sarah fencing (she's the one in the dark jeans).

Save
Save