We had such a great Thanksgiving.  We always get together with some dear friends of ours, and this year it was our turn to have it at our house.  We had a pretty big turkey, 22lbs, but I was cooking it in our roaster oven, so it only took about 4 hours to cook.  I don't usually stuff it, but I do put celery, onion, apples, seasonings, butter and olive oil on it.  I put a bit of chicken broth in the roaster too this year.  It turned out so yummy.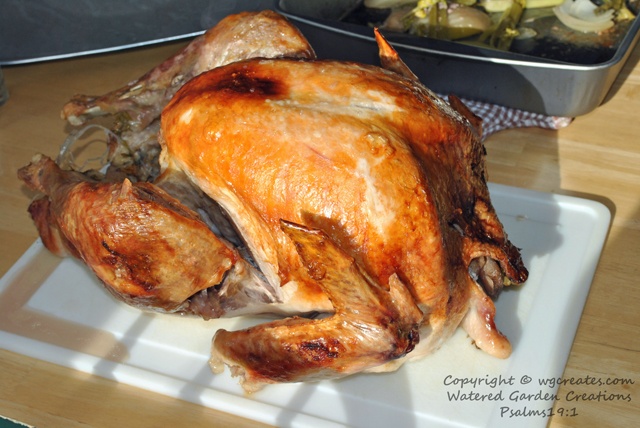 Being that this was our first gluten free Thanksgiving I was a little worried.  I am thankful that we have been GF for over 6 months, and most of it is very routine for us.  I was worried about three main things, dressing, pumpkin pie and dinner rolls.  Though I didn't get pictures of it, the dressing turned out great.  I made homemade GF bread and let it dry out to make the bread cubes.  I did everything else like I normally do, and it tasted so good.  Dressing is one of hubby's most favorite side dishes, so I was glad it turned out well.  I had practiced with the dinner rolls, and though the first batch came out ok, I forgot about the second batch and they dried out in the oven.  🙁  At least the first batch gave us some nice rolls while we ate dinner.
Now, pumpkin pie.  I have never made a pie crust ever, I have always bought them pre-made.  I did look for a pre-made GF crust, but couldn't find one anywhere.  With little choice I knew I had to make a crust myself.  It was the last thing I made on my baking day, and I was nervous, but it wasn't a hard as I thought it would be.  I'm thankful for my Cuisinart food processor, that made things so easy.  It was pretty easy to roll out, and I actually got it in my pie pan with no problems.  It tasted pretty good too, though I think next time I'll add a bit more sugar.  I didn't get any after photos, but I did get one after I got it in the pan.  🙂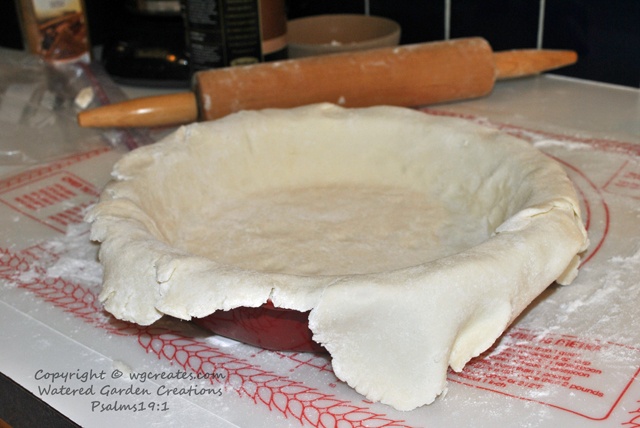 That was all the pictures I got from our Thanksgiving.  I know, it's pretty sad, but I just never thought to pull out my camera.  We were having such a nice time with our friends that I didn't think about it.
Last year we had a flood in our kitchen when we woke up and we were so thankful that year that we didn't have Thanksgiving at our house.  This year we thought for sure we wouldn't have any water problems, and almost made it through the whole night without any.  But alas, water problems did arise.  In our main bathroom, which our guests use, the toilet handle broke.  🙁  Not a bid deal, at least we could easily pull the chain to get it to flush.  Unfortunately when one of the kids used it and tried to flush it, when they dropped the chain and it hooked on the floater and so when the tank was filling it overflowed all over the bathroom floor!  Thankfully the bathroom is right next to our living room so I heard it the minute it started hitting the floor.  A lot flowed out before we got the water turned off, but we did get it cleaned up pretty quick, and enjoyed the rest of the evening.  After our friends left Paul and I decided to go out and brave the Thanksgiving night shoppers at WM and get a new handle.  We went out around 8:00pm, and honestly it wasn't that bad at all.  I don't know if it was before or after the sales, but we got in and out quick.  Came home, Paul fixed the handle and then we watched the 50th anniversary of Doctor Who, The Day of the Doctor!  It was a great way to end the day.  😉
Save